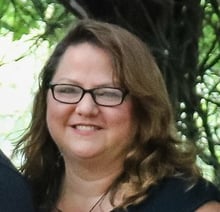 What do you do in your free time?
Garden. Gardening has become a passion for my husband and me. We make lots of salsa and give it out as gifts to family and friends. It has become a challenge to be successful in an area that is notorious for failed gardens. I was named Master Gardener of the year in 2015 and have been on the Northern Nevada Master Gardener Edible Garden tour for three years.
How long have you been with ACP?
6 months
What is your career background?
I have spent most of my career working in administrative/clerical positions in various industries. Alcohol importing, construction, and loans. I had to stop working several years ago to care for my parents. I am so grateful to ACP for giving me the opportunity to re-enter the workforce in such a fantastic environment.
What inspired you to work with ACP?
I was originally placed at ACP through a temp agency. Since I have been here, it has been exciting to see all the stories of successful treatments and improvement to people's quality of life. I have really enjoyed the culture of inclusion here – the feeling of all the departments working together for the same goals of company success. I generally work with CPCs. Occasionally I have the opportunity to assist therapists directly with record-keeping to renew their licenses. The CPCs have treated me with such kindness and patience in the learning process. I am excited to come to work each day and feel accomplished at the end of each day.