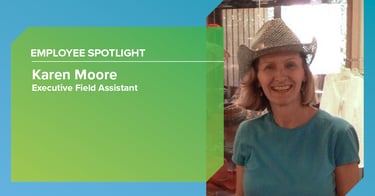 What do you do in your free time?
On Saturdays, as time allows, I hike with a group of buddies and all our dogs. We have some amazing trails here in No. Nevada! I'm also the music director in my church – I have a worship band, arrange all our music, and play guitar/sing with a wonderful group of musicians and vocalists. They make even me sound good. Other than that, I'm quite boring – but I love to eat and love to cook. I am very thankful for my family, good friends, a beautiful area to live in, stellar coworkers, hot showers and Sunday afternoon naps.

How long have you been with ACP?
I've been with ACP for 4+ years. Time flies when you're having fun. I love ACP and what we do.

What is your career background?
In my short college career, I majored in music, theater and dance, which prepared me for… not a whole lot. I've been an Exec Assistant/Facilities-Office Manager for more years than I care to admit. I started in the Fire Protection and Mechanical Engineering field, which I loved, and later moved into Healthcare, and eventually 14 years at a disease management company, Alere Medical, from startup to acquisition by a large, international company. I supported the CEO and Executive Team, interfaced with the Board of Directors, and project managed the building of Alere offices all over the country: Reno, Orange County, Denver, Columbus, Chicago, Miami. We acquired several companies and then ultimately sold Alere to Inverness Medical (who is now known as Alere). A fun ride and once-in-a-lifetime experience!

What inspired you to work with ACP?
After the Alere offices closed in Reno, I accepted an office manager position at a financial services company. They were a great group of people, but the business left me feeling uninspired. Being a (big) handful of years away from retirement, I wanted to find a job that would spark a little passion again. When I saw an ad for a support position at ACP where a friend worked, I decided to check it out. Then I met Debbie – who wouldn't want to work for Debbie? The rest is history.