What do you do in your free time?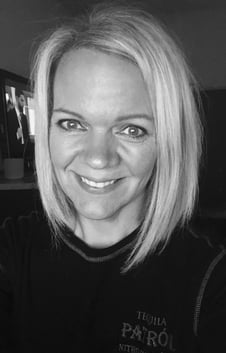 In my free time, I enjoy gardening, cooking, spending time with my three dogs and helping my stepdaughter with her extracurricular activities: raising a goat for FFA and racing her junior dragster.

How long have you been with ACP? I am celebrating one year with ACP this week!

What is your career background?
Before ACP, I was an art director working in ad agencies for high tech and healthcare clients. This is my first time to work in-house for a corporate marketing department.
What inspired you to work with ACP?
I had my first personal experience with just how well physical therapy works for pain relief just months before I applied, so I was definitely a believer when I learned about ACP and their quest to help patient outcomes. I was excited to learn there was a position available to work on the marketing team here. I love reading each and every patient success story. I'm inspired by everyone at ACP especially the clinical team. The work ethic and passion for helping therapists help patients is top notch. I'm happy to have found such an inspiring place to work.

What is your favorite patient story?
I love all of the patient stories but my favorites are the Synchrony/Dysphagia Program stories where the patient's go from not being able to swallow to back to eating one of their favorite foods. I think this plays a huge role in keeping older patient's fulfilled…being able to enjoy the things they love whether it's eating a favorite food or getting back to birdwatching. Returning someone's zest for life is key to their overall health and I know how important that is to helping their caregivers, too.