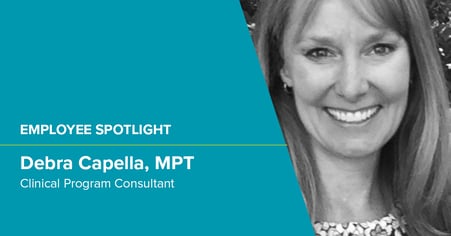 What do you do in your free time?
I enjoy hiking/trail running with my husband and traveling with my two college aged kids whenever we get a chance! I particularly like spending time in the mountains and exploring new places.

How long have you been with ACP?
Just getting ready to celebrate my 9th ACP Anniversary!

What is your career background?
I have been a PT for 27 years and have worked in multiple settings prior to ACP including Acute Care, Comprehensive Inpatient Rehabilitation, Sub-Acute, Outpatient and Home Health. I spent a little of that time in a managerial position but missed the "hands on" care too much so returned to patient care.

What inspired you to work with ACP?
I think there are three main reasons I was inspired to work for ACP. It provided me an opportunity to expand my "mentoring" of newer clinicians as I think that is an area where our profession has been challenged recently. I also wanted to help clinicians and their patients benefit from the expanding variety of options and technology. Finally, in a unique situation, I have been able to work alongside my sister (Manda Hobbs) even though we are living 5 hours apart!