What do you do in your free time?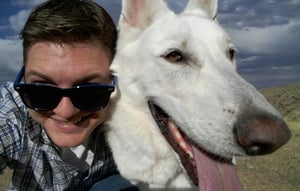 I love to go hiking with my pack of three German shepherds (and a Chihuahua), biking, kayaking, gardening. Most important is spending time with my 18 month old daughter, watching her learn and grow. I've even taken her on a few short hikes already!
How long have you been with ACP? 3.5 years
What is your career background?
I was an optician and optical lab manager back home in San Diego, and a part time scuba instructor.
What inspired you to work with ACP?
We help people here. We improve the quality of life for patients. At the end of the day, no matter how difficult certain parts of it are, I can always say "I helped people today." That's important to me. And everyone who works here can say the same thing.
What is your favorite patient related story?
We tend to speak with the therapists rather than the patients. They're always so relieved when we can get their equipment back up and running in one call so that they can continue with their treatments. I know how valuable their time is and how much it means for the patient to receive a consistent uninterrupted treatment schedule. Many of my calls have ended with "thank you, thank you, thank you!.." and then a dial tone because they were in such a rush to get back to treating. Further, we get calls daily from patients who are so impressed by their progress on the OmniCycle that they want to purchase one for when they go home, hearing cycle praises is a normal occurrence for our department.