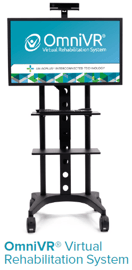 A skilled nursing facility rehab department incorporated the OmniVR® for residents in their memory care unit as a way to make activities interactive and fun. Therapists note it is typically difficult to engage these and similar residents in activities, sustain their attention, and keep them actively involved.
Twelve memory care residents in a closed dementia unit participated in weekly group OmniVR sessions for up to four weeks. OmniVR seated activities were provided to target trunk and upper/lower extremity ROM, strength, and cognition. Favorite exercises included Bingo, Puzzle, Picnic, and Carnival. All residents performed exercises simultaneously, whether or not they were on camera.
The addition of OmniVR activities motivated residents to interact with each other and increase their overall movement. Also, staff noted less wandering and agitation among the participants. Additional residents within the memory care unit wanted to be part of the group and join in on the fun!

• Resident 1: "I really like that!"
• Resident 2: "That was really fun!"
• Resident 3: "When will you be back?" Therapist response, "Next week sometime." Resident response, "That's too far away!"

• Nursing Staff 1: "What an amazing tool/piece of technology!"
• Nursing Staff 2: "I can't wait to use that on the weekends with residents!"
• OT: "It was extremely rewarding to see the residents react with excitement for the VR and it pleasantly surprised me how engaged they all were with a wide range of activities."
• Corporate Rehab Services Coordinator: "The residents rocked it! The virtual experience brought non-verbal as well as verbal residents together in an engaging and positive format."