Focused Clinical Application
Synchrony: Skill-Based Typical Swallow Interventions
ASSESSMENT:
Resting Baseline

Swallow Command Initiation

Typical Swallow

Swallow Duration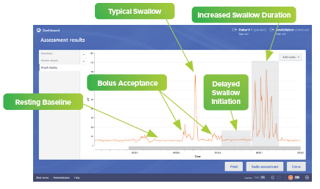 ---
INTERVENTION:
Timing:
Bow and Arrow / Work-Rest Cycle
Used for targeting swallow initiation

Under "Edit Parameters", select a time less than patient's baseline delay

Note: Swallow repetition is considered accurate when completed within set time.
Coordination:
Trace Display
Helps reduce excessive activity during typical swallows
Assists in reducing swallow duration time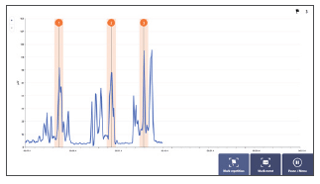 Note: Goal is to decrease amount of activity pre and post swallow.
Work-Rest Cycle
Used to reduce motor activity during swallow

Under "Edit Parameters", modify work time based on patient's baseline swallow duration

Used to target volitional control and timing used during swallow duration

Under "Edit Parameters", high/low target amplitude can be set for patients needs

Note: Within parameter settings select box next to high target to make amplitude visible.