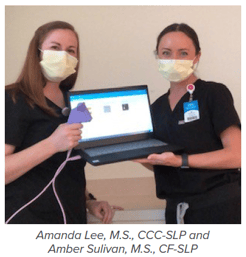 Team Champions
Mandy Lee and Amber Sullivan make up the speech-language pathology team for Lighthouse Therapy at Singing River Skilled Nursing Facility in Gulfport, MS. Over the past 6 months, they have achieved success integrating ACP's OmniFlow™ Breathing Therapy Biofeedback System into their dysphagia and speech therapy practice.
Lighthouse Therapy is currently the only company on the Mississippi coast to offer the OmniFlow™ technology for rehabilitation.
Technology Integration
Mandy and Amber have found OmniFlow™ useful in treating patients with a variety of diagnoses, including those recovering from COVID-19. The team notes, in conjunction with swallowing exercises, this system has helped their patients with dysphagia improve oral intake and airway clearance needed for proper nutrition and hydration.
Team Success
A patient recovering from COVID-19 and pneumonia had difficulty swallowing, anxiety, dyspnea, pain during exercise, and required 5 liters of oxygen via nasal cannula. During his treatment, OmniFlow™ was utilized to address swallow-respiration coordination, as he exhibited poor oral intake of only 25% during meals. Following therapy, he had decreased incidence of dyspnea, was free of pain and anxiety, no longer required supplemental oxygen, and was able to consume 100% of meals (improving his nutritional status).
---

---
Champions
Mandy and Amber's willingness to explore emerging interventions
and rehab technologies and their dedication to improving patient outcomes in swallowing and speech therapy, make them "clinical champions!"