This 77-year-old woman was admitted to Raleigh Court Health & Rehabilitation Center in Roanoke, VA due to weakness and inability to care for herself. She was hospitalized after a stroke where she was also diagnosed with COVID-19. Before the stroke, she was undergoing treatment for metastatic lymphoma (cancer in the lymph system that has spread to the lungs). Prior to hospitalization, she lived alone and was independent with self-care and mobility.
Occupational Therapy: (3x/week x 4 weeks)
OmniFlow® Breathing Therapy Biofeedback System
Used to improve breathing technique and functional
activity tolerance: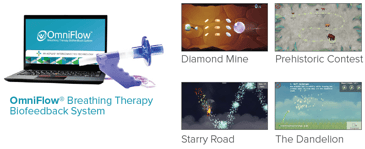 • Deep inhalation – Diamond Mine
• Forced expiration – Prehistoric Contest
• Rhythmical breathing – Starry Road
• ACBT/Huff technique – The Dandelion
Additional Interventions
• Bed mobility/transfer/gait training, therapeutic exercise, self-care management

---

" Getting out of bed is easier now that I've learned better breathing techniques from OmniFlow." – PATIENT
"Her lungs haven't sounded so clear in a long time." – ONCOLOGIST
---
This woman and her son are thrilled with the progress she achieved in therapy.
The OT reports that the significant progress in activity tolerance allowed this woman to perform static and dynamic self-care activities. As a result, she returned home independently!
PSS-00023