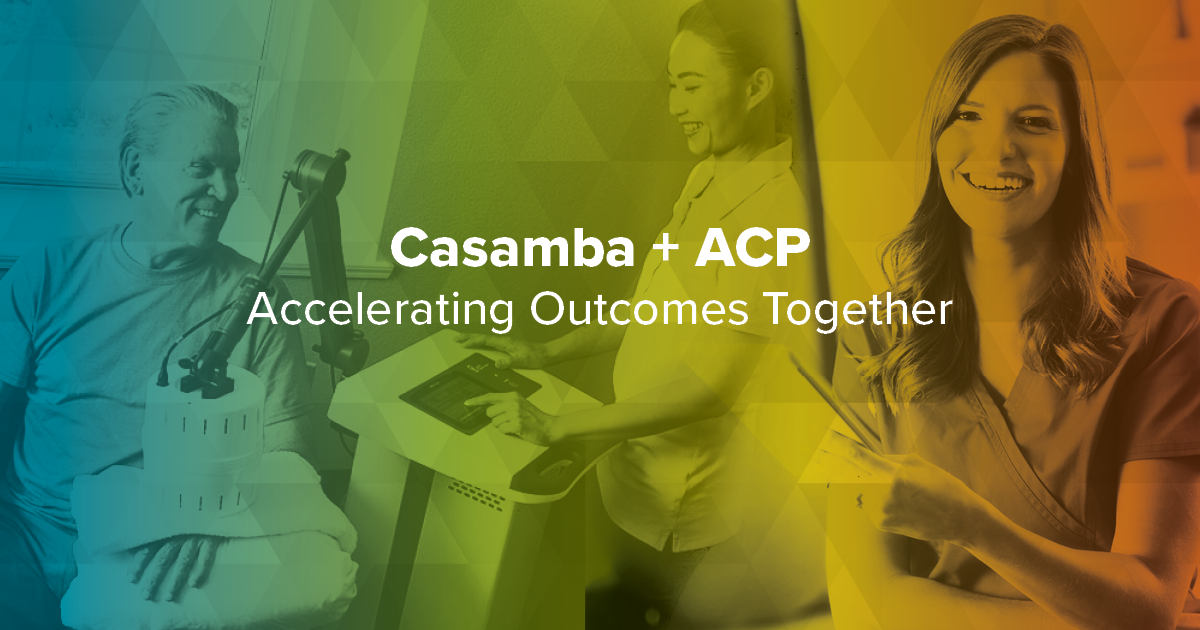 Casamba Announces Exclusive Partnership with
Accelerated Care Plus
Relationship will maximize efficiency by interconnecting customers, Casamba's EMR and ACP's networked rehabilitation technologies
Agoura Hills, CA – September 2, 2020 – Casamba, a leading provider of electronic medical record (EMR) solutions for contract therapy providers, skilled nursing facilities, home health and hospice agencies, and outpatient therapy, today announced an exclusive partnership with Accelerated Care Plus (ACP), the nation's leading provider of specialized rehabilitation technologies and evidence-based clinical solutions for post-acute providers. Through ACPlus®, ACP's Interconnected Care Solutions platform, Casamba customers will interface ACP's rehabilitation technologies with Casamba Skilled.
"We share a collective goal with ACP to provide a meaningful solution for the therapy industry. This important partnership with ACP is a significant change for our customers because of the efficiency it delivers and the continuity between documentation and billing practices allowed. Customers and their staff can now avoid double data entry from treatment sessions—saving time and money," said Billie Nutter, CEO of Casamba.
The launch of ACPlus® Interconnected Care Solutions Platform will be available to Casamba customers beginning October 2020. The cloud-based system will provide a platform that interconnects the patient, ACP rehabilitation technology, and the EMR system, resulting in improved outcomes and efficiency.
"ACPlus® was built for post-acute and rehab partners to remove the longstanding barriers that have limited clinicians and executives from having real-time, accurate, and interconnected data at their fingertips to make better decisions," shared ACP President, Deb Koepsel. "We are grateful to our partners for their ongoing input with this project and are thrilled to be launching ACPlus® with Casamba."
For more information on ACPlus® Interconnected Care Solutions Platform, click here. For more information about Casamba Skilled, please click here.