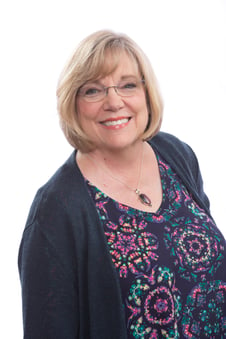 What do you do in your free time?
I have a large extended family so frequent gatherings are always part of my free time. I'm also very involved with my church, serving on committees and helping at events. My husband, Brett, and I volunteer yearly with Wheels for the World, an international ministry that provides wheelchairs in under-served areas around the world. We have been to Cuba annually for the last 5 years with this organization.

How long have you been with ACP? 12 years
What is your career background?
As a physical therapist, I have enjoyed practicing in variety of settings since I began. I started at a large teaching hospital, where I was exposed to many departments and programs that helped me determine my best fit. From being the UE specialist in an outpatient program to doing work-site evaluations and treatment of work trauma in an occupational medicine program, I had the opportunity to broaden my skills. While affiliated with an orthopedic program, a need was presented to me to grow the inpatient acute care and transitional care units. That was when I stepped into the world of geriatric physical therapy, moving later to an inpatient rehab facility where I worked for 10 years prior to joining ACP.

What inspired you to work with ACP?
I've always loved to teach and mentor, and sought opportunities to do just that through the years. There is nothing like being a part of those "Aha!" moments. When I learned about ACP's focus on clinical support and advanced training, I was intrigued. Then when I saw the continence improvement protocol with PENS, so approachable by both therapists and patients, I knew that ACP must be something special.

What is your favorite patient story?
At one of my facilities, the rehab team implemented the Continence Improvement program with a woman who had been diagnosed with MS. She improved significantly and was so happy with the results. At my next visit, she found out that I was the person who taught the team about the program, so she sought me out, told me how much it changed her life to gain control again, and thanked me. That made an impact on me.