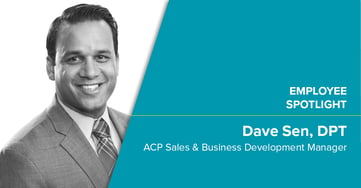 What do you do in your free time?
I pride myself in being a family man. My wife, 2 boys (ages 1 and 4), and Golden Retriever Nacho, are blessed to have both sets of grandparents nearby to us in New Jersey. As the boys get older, I look forward to getting back into and sharing my love of tennis, basketball, soccer, and movies with them. I love hosting parties and watching everyone enjoy themselves. We make a big deal out of every birthday, anniversary, and milestone, so the house stays busy with positive energy. My favorite time is during the holidays when family, friends, food, and good spirits feels just perfect.

How long have you been with ACP? Since August 2017

What is your career background?
I earned my Bachelor's degree in Health Sciences and Doctorate degree in Physical Therapy from the University of the Sciences in Philadelphia. During this 6-year program, I completed healthcare business and marketing related courses and my interest towards the business side of the rehab field started to develop. Immediately following graduation, I was given an opportunity as a Business Development Specialist for New Jersey area clinics for ManorCare's outpatient division, Heartland Rehab. In the following years leading up to joining ACP, I was fortunate to serve as the Regional Account Manager for FOX Rehab in Maryland and the Director of Business Development and Marketing for Kindred Inpatient Rehabilitation Hospital in Langhorne, Pennsylvania.

What inspired you to work with ACP?
When I learned about the Sales & Business Development opportunity at ACP, I was immediately intrigued by the complete scope of expertise ACP represented. Not only does ACP develop the highest quality rehab technologies, but also offers outcome-focused program pathways and evidence-based training and education! These key concepts, including outcomes and evidence, had become a major part of my sales approach, when I was just learning about ACP for the first time, so it made for an exciting match! As I began with ACP I was hooked by the comprehensive nature of our mission and the purpose within the post-acute care industry. ACP is a solutions' expert that positively impacts quality of care, quality of life, and a facility's clinical operations.

What is your favorite patient story?
My favorite stories are the ones from a clinical advocate, who was once a skeptic, but now speaks of how our educational programs and rehab tools helped positively influence problematic quality areas. In particular, I enjoy meeting with nursing and therapy staff members who witness the success of our Wound Healing clinical program for chronic wounds that may have persisted for weeks and months. As we approach new payment model (PDPM) in Skilled Nursing Facilities, these superior outcomes recognized by clinical and operational leadership across multiple departments are indeed inspiring.