What do you do in your free time?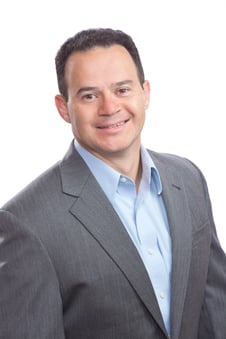 I love playing sports and spend a lot of time playing soccer in a competitive travel league, as well as a recreational league. Both of my sons play competitive travel soccer as well. The soccer field is our second home. I also enjoy reading and deep sea fishing. Fun fact: I caught a personal record snapper this year at around 75-80 pounds.
How long have you been with ACP? 6 years
What is your career background?
I graduated from Florida Southern College with a B.S. in Biology, minor in Chemistry. I attended the University of St Augustine for Health Sciences where I earned my Master's in OT, following with a Doctorate in OT the same year.
What inspired you to work with ACP?
I had heard of ACP previously but had not given it much thought. I then found myself in a facility that had ACP programs & equipment. I refused to use them! I was not a fan of modalities, mostly because of my own close-mindedness and being intimidated by something I didn't fully understand.
I have known William Regan (an ACP Employee) for a long time and discovered he was working with ACP. After I became a Rehab Director, and began using PENS (mostly forced by another OTs) with great outcomes. I was offered another DOR position and accepted. Once there, I requested ACP modalities come with me. During a conversation with William, I learned there was an open position with ACP as a CPC. I wanted to be a part of a company that was exciting, cutting edge, values outcomes with a patient-centric focus.
I have experienced great success with the interventions I have used, and wanted to share and expand on that success. If I was able to go from outright refusing to use modalities, to realizing that they could tremendously impact a person's life positively, I had to share that story. My experience compelled me to share with other therapists that it is okay to be challenged and grow as clinicians.
This is the longest I have ever been with a company and it is because I truly believe that ACP is unique. A rehab solutions company, with a team that is second to none in knowledge, compassion and a vision. We are united to revolutionize rehab.
What is your favorite patient story?
One of ACP's partner teams was working with a patient status post a motor vehicle accident, with multiple complications, including fractures, confusion, and dysphagia (with PEG tube placement). This patient did not want to participate in therapy and had very low motivation. Her status was quickly declining and she was losing weight rapidly.
One of the speech therapists continued to work with her, introducing Synchrony. The patient finally gave in, and started participating in speech therapy. She enjoyed the sEMG biofeedback activities. Progress was tremendous. As she started eating, she was further motivated to participate in all therapies.
Almost 3 months since her accident and two months since admission, the patient had the PEG feeding tube removed. She was now very energetic and thankful to the therapy team. The patient and her therapist both attribute her success to Synchrony and the sEMG biofeedback activities. I will always remember the compassionate patience of the team, and the wonderfully supportive DOR. The patient's smile left a timeless impression.
We at ACP impact the quality of life for thousands daily. I am very grateful to be part of the ACP team contributing to positive accelerated outcomes.