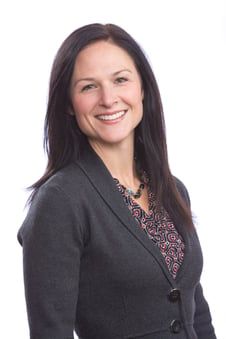 What do you do in your free time?
I hang out with my family (3 children, Rob, and 2 dogs) mostly! When I am not watching my three children play lacrosse, baseball, field hockey, and basketball – we like to mountain bike, hike, and travel. A unique thing about me is that we have egg laying chickens, raise our own meat chickens, and keep a vegetable garden as long as we can through the season.
How long have you been with ACP? 13 years
What is your career background?
I am a physical therapist and have spent the last 18 years working with the geriatric population. I went into PT school with the goal of working with geriatrics and women's health. I have been able to combine my passions and grow my expertise in pelvic rehabilitation with a focus on the geriatric population. I am a Certified Exercise Expert for the Aging Adult as well as Pelvic Rehab Certified Practitioner.
What inspired you to work with ACP?
I was inspired by the people who worked with ACP, their level of intelligence and their commitment to clinical excellence. I wanted to learn more and grow who I was as a clinician. I was scared to leave the comfort of treating but I know I am a better PT because of my work with ACP.
What is your favorite patient story?
I had a patient who I was treating s/p CVA. She was in her 40's and was unable to even sit on the edge of a bed. With many other therapies, I used ACP (PENS) on her for her hemiplegic side and urinary incontinence. She walked out of our facility with a cane! Her advice to me was: "don't ever lose life balance. You will end up like me." I was 23 years old treating her and try to live by her message every day. I can still see her face as clear as day.