Interferential current (IFC) is a medium frequency electrical stimulation used for pain relief when targeting deep tissue. Two sinusoidal waves are crossed and interfere with each other, creating a third vector to stimulate a larger area. The vector can sweep and is adjustable to slow or fast-moving over an arc of motion. Adjusting parameters yields precise and targeted treatment.1, 2
In the OmniStim® and OmniVersa® electrotherapy devices, adjustable vector sweep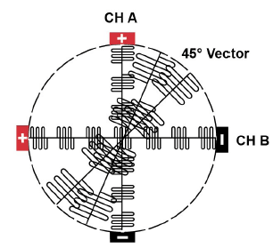 options are:
• Slow 45°, Fast 45°, Slow 90°, and Fast 90°.
IFC can be delivered at different levels:
• Sensory/tingling (80 – 100 bps), providing rapid onset, short-lasting pain relief, typically used for acute pain.
• Motor twitch (2 – 5 bps), providing slower acting, but longer lasting pain relief, typically used for subacute and chronic pain.
• Sensory and motor stimulus can be combined for rapid onset and longer lasting pain relief (15bps→2bps→100bps).
The most common electrode application method with IFC is a quadripolar set-up using four electrodes surrounding the painful area and crossing the channels. The bipolar method uses premodulated current in which two medium frequency currents are crossed inside the machine and delivered through one channel. Electrodes can be placed lateral to the spinal process of the involved segmental level(s) or locally around the painful area.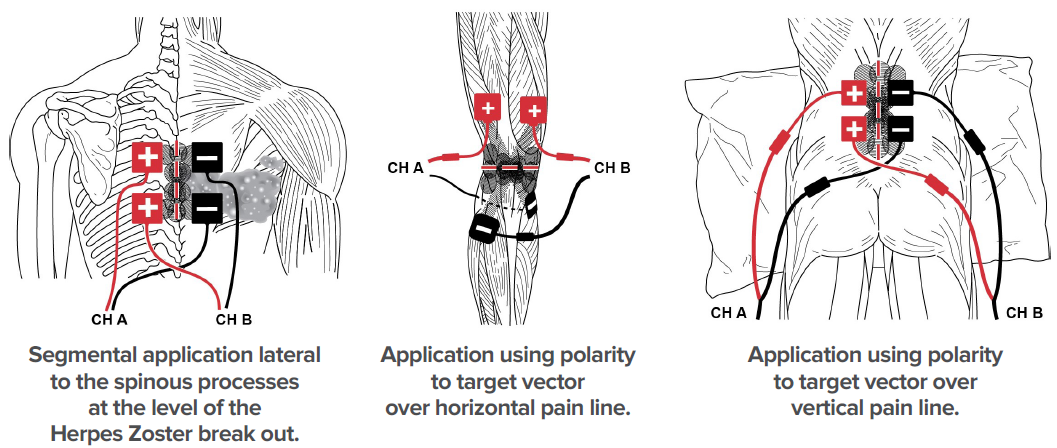 To optimize the vector over the most painful area, polarity needs to be properly placed. To increase the ease of application,
1. Place the electrodes to bracket the target tissue.
2. Connect one set of lead wires on a diagonal without regard to polarity.
3. Imagine a line (red dashed line above) running through the pain/segmental level you are targeting and think of it as a net.
4. On one side of the "net", place the positive team (the two positive electrodes). On the other side of the "net", place the negative team (the two negative electrodes).
References:
1. Goats GC: Interferential Current Therapy. Br. J. Sp. Med. 24,2:87-92, 1990.
2. ACP OmniStim® FX² and OmniVersa® User Manual