In the early phase of rehab, a therapist may elect to challenge a patient with one task at a time. However, most of the activities done by individuals in everyday life occur with two or more tasks performed at once. Dual-task (DT) training is defined as working on one task while simultaneously working on additional tasks (cognitive or motor). Individuals with neurologic disorders commonly have deficits in their ability to perform motor and cognitive dual-tasks.
DT training has been shown to offer the following therapeutic benefits:
• Improved dual-task ability in individuals with neurologic disorders holds potential for improving gait, balance and cognition.¹
• Dual task training is effective for the enhancement of hand function and balancing ability in stroke patients.²
• Implementation of task management strategies into balance and strength training revealed a promising modality to prevent
falls in older adults.³
OmniCycle® can be used for upper or lower extremity cycling therapeutic exercise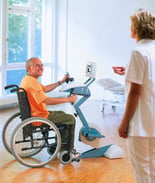 Dual-Task Training:
• Use biofeedback programs (i.e., soccer, bar graph, porcupine, symmetry road) to engage cognition and problem-solving.
• Engage the patient in conversation. Have them tell a story or solve a riddle or math problem while cycling.
• Lower extremity cycling can be done while operating a cell phone or tablet.
OmniStand® provides dynamic support and can be used for ankle, hip, and stepping balance responses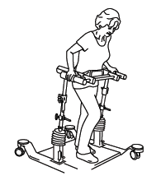 Dual-Task Training:
• Instruct the individual to sing a song while marching in rhythm with the tune.
• Facilitate engagement with a tablet or cell phone.
• Use the table top to play a game of cards, checkers or work on balancing a check book.
• Alter leg and foot placement during a game of catch.
OmniVR® can be used for sitting, standing, balancing, upper extremity, and walking activities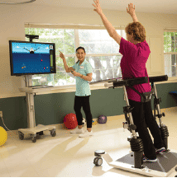 Dual-Task training:
• The OmniVR® incorporates exercise (motor task) while simultaneously doing virtual activities (cognitive task).
• The OmniVR and OmniStand can be used alone or in combination to work on balance while doing game-like activities in a virtual environment, increasing the duration and repetition of dual-task training.
PENS walk protocol can be used while the patient stands, weight shifts, marches in place, or walks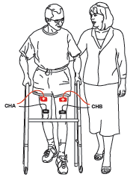 Dual-Task training:
• Engage the individual in conversation; ask questions; have them tell you something they did recently.
• Direct the patient to remove objects placed in his/her pockets.
• Provide mental challenges; for example, in 30 seconds, say as many words that start with the letter R as you can.++
References:
1. Fritz N: Motor-Cognitive Dual-Task Training in Neurologic Disorders: A Systematic Review. J Neurol Phys Ther. 39(3):142-153; July 2015.
2. Park JH: Dual task training effects on balance and hand function of stroke patients. J Phys. Ther. Sci. 29:1878-1880, 2017.
3. Wollesen B: Effect of Dual-Task Management and Resistance Training on Gait Performance in Older Individuals: A Randomized Controlled Trial. Front Aging Neurosci.
9:415, December 2017.