Patient Information: Female, Age 76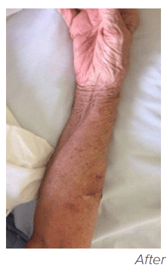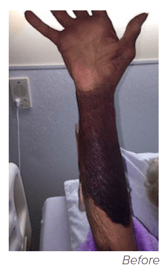 Diagnosis: Acute Hypoxic Respiratory Failure / Acute Bronchitis
History: This woman was referred to a skilled nursing facility for rehabilitation services after hospitalization for acute hypoxic respiratory failure and acute bronchitis. After an eight day stay at the facility, she was re-hospitalized with pneumonia for two weeks and then readmitted to the skilled nursing facility for therapy due to a decline in strength, endurance, balance and overall functional mobility. She also had extensive bruising, swelling, and pain in the right forearm and hand. Prior to hospitalization she lived at home and used a wheelchair throughout her home for mobility.
Pre-Therapy Status:
Right Arm and Hand Pain: Moderate (6-7/10); would not use it or allow nursing to touch the arm.
Bruising: Severe; right forearm was black in color.
Functional Mobility: Minimal (25%) assistance with bed mobility and transfers.
Ambulation: 10 feet with a rolling walker and minimal (25%) assistance.
Self-Care: Moderate (50%) assistance for bathing and dressing; minimal (25%) assistance for toileting.
Therapy Information:
Modality: OmniSWD® Shortwave Diathermy System.
Frequency: 5-6x per week.
Protocol Specifics: Subthermal diathermy applied to the right forearm to increase
circulation and decrease pain and bruising for improved use of her arm and hand.
Duration: Two weeks.
Other Therapy Services Provided: Therapeutic exercise, neuromuscular reeducation,
gait training, therapeutic activities and self-care management.
Outcome:
Right Arm and Hand Pain: Absent to minimal (0-1/10).
Bruising: Resolved.
Functional Mobility: Independent for bed mobility and transfers.
Ambulation: 20 feet with a rolling walker; uses a wheelchair for mobility throughout her home.
Self-Care: Independent with a rolling walker and close supervision for toileting; independent for dressing and bathing
The therapist credits the use of diathermy to the rapid resolution of edema, bruising, and discomfort for this woman, allowing her to use her right arm to regain her independence with mobility. The woman, her daughter-in-law (a physical therapy assistant) and a friend of the family (a doctor) were amazed at the rapid results achieved with the diathermy treatment! Family members reported that they had been fearful "she was going to lose her arm" based on the degree of bruising.